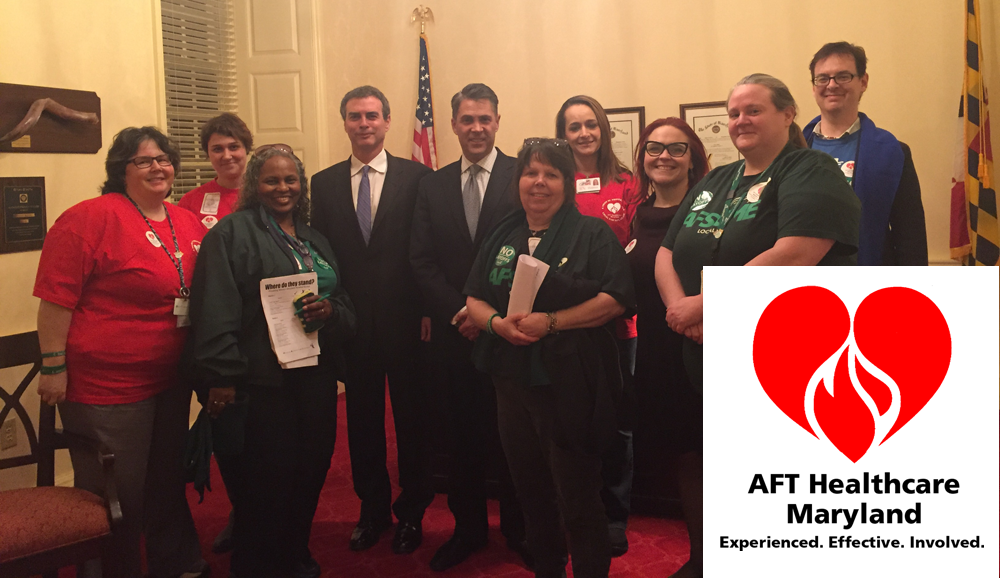 On Monday February 29, members of AFT Healthcare-Maryland went to Annapolis to fight back against threats to privatize the Western Maryland Hospital Center. For union member employed at WMHC, this would mean a loss of hard-fought rights and protections for workers.
Members argued the quality of care for residents of western Maryland was too important to be decided just by cost-cutting measures. Also of concern is that if one state hospital can be privatized, undoubtedly other state facilities and services will also be privatized at great harm to the citizens of Maryland and the state workers who make the state work!
Members are uniting and have the attention of elected leaders in Annapolis. They are committed to talking with legislators, community activists and other interested parties. On March 21, 2016 they will head back to the state capitol arm-in-arm with  sisters & brothers in labor for an AFL-CIO Rally on Lawyers Mall.
Members say it is important that state Senators and Delegates hear us and know who we are. This is the only way AFT Healthcare-Maryland will get the changes demanded in Annapolis.
RSVP for the next Rally in Annapolis on March 21st, 2016.